Everyone love to hear when Google start its Shared Web Hosting solution but Google already declared that it will not come into this segment in the near future, recently many Gmail users are getting fake emails stating that Google is starting shared web hosting solutions for FREE and they just display ADs for first 20 days. Excited users responded to those emails and at the end they come to know that "it is not from Google they received those emails but from a fake company". you can check the below image of all the transcription of Google Web hosting mailer.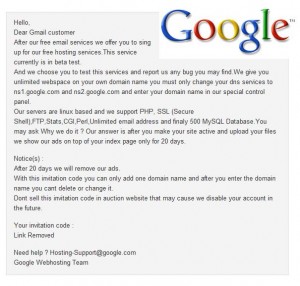 IBEE Hosting as a partner of Google receives many calls regarding this and we explained all of them that Google is not having any idea to roll such kind of solution in near future. Google of-course give web hosting solution but it is through its Google Apps. Google has the brand value to pull the crowds when they start something new, fake companies are using the brand value of Google and started selling their own plans and packages.
IBEE Hosting suggests not to believe in these kind of rumors and contact Google Apps Reseller like us at [email protected] or 09949922500 for more information.