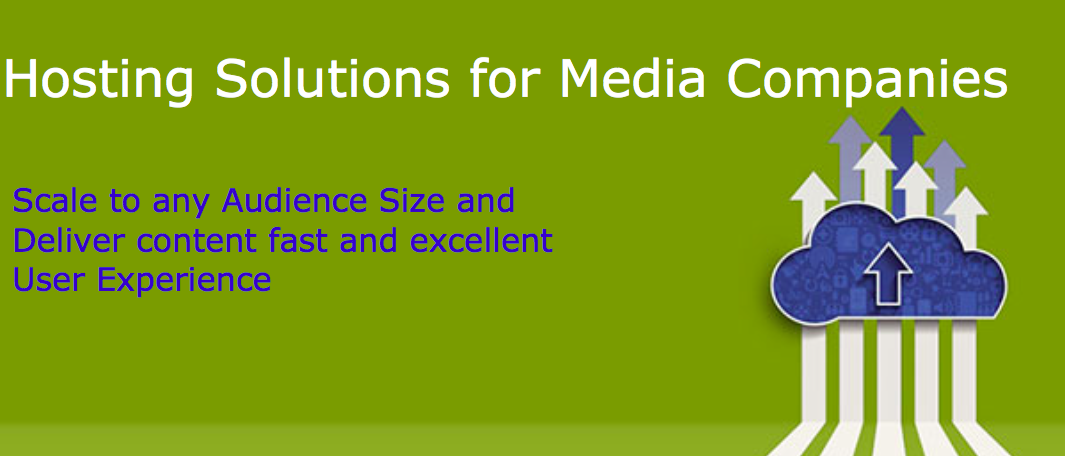 "The sum of all forms of video will be approximately 86 percent of global consumer traffic by 2016." — Cisco Visual Networking Index: Forecast and Methodology, 2011–2016.'It exemplifies that the there is an enormous traffic potential for Media and Entertainment Industry. Media Hosting has a high need to have fast, secure, cloud-based viewing experiences for the customers.
The growing global audiences for the media in any form demands the instant access to premium online media delivery, with excellent user experience on any device, in any location.A Media hosting provider helps in delivering uninterrupted compelling user experiences to visitors. Providing the online media content securely over the Internet increases engagement, monetizes audience and capture the opportunity is very crucial for the media companies.
Delivering Fast, secure and excellent Experience to you visitors?
Poor online media viewing experience can have a negative impact on your brand image and visibility. It can substantially reduce your potential viewers and losses in Internet ad and subscription revenues. Online Media content in the form of videos, audios, images, push notifications delivering in the fast and secure channel to your visitors. Pacing this fast delivery requires high computational power and storage containers. High computational power symbolizes to high-performance  Web Server, serving the request and response cycle for the visitors and storage containers symbolizes database server which will serve content stored in any form- text, audio, video or any kind. Thus to stand out among the competitors and gain visibility and delivering high-end user experience, you need to backup your IT infrastructure with a powerful and robust server that processes queries faster, deliver content more quickly and handle multiple concurrent visitors.
IBEE Hosting Enterprise Dedicated Server Solutions helps you monetize your online media audiences, delivering content securely while streaming across multiple devices and locations, and reinventing your media delivery distribution channel.
Scale to any audience size and gain visibility across the Globe
IBEE Hosting solutions for the Media and Entertainment Solutions have proven results with its client; We have increased their traffic by 800% and growth in Revenue by 500%. We have an auto scalable solution for the Media companies that can meet your spikes in traffic. We have proven our ability to scale to meet the world's demanding streaming video events and handling multiple concurrent users and enriching the real-time media analytics to understand the visitors experience.
Our Services for Media companies:
Free CDN Solution: As part of XBT Holding, IBEE Hosting offers CDN solutions from its group company UCDN.COM, by implementing a robust and geographically reliable premium CDN solution for your website, you can achieve significant improvements in website loading performance and customer experience.
Low Latency and Premium Bandwidth: We offer full pipe up to 1 GBPS; this gives you an advantage of loading your website traffic even when it gets huge spikes in traffic when there is an incident you covered first. Also, our network is built on 40 gig switches of Juniper, which gives you the additional advantage of pushing your videos from any location much faster.
Scalable Cloud Architecture: At IBEE Hosting, you can choose to have a variety of hosting solutions from dedicated to cloud, in cloud hosting, we offer a scalable architecture where you can upgrade or downgrade your infrastructure anytime you need.
Mobile Ready Solutions: We understand our customer's mobility requirements so well that we build scalable infrastructure solution that supports your mobile apps' web services and push notifications, our expert service engineers are equipped and trained to understand your multi-device support and multi-platform requirements.
Case Study:
Andhrajyothy: Migrating to enterprise hosting to deliver High performance and Uptime.
Scenario: When we take up the project it was hosted with a top cloud solution provider who also is a major e-commerce website in the world, it was co-managed by Andhrajyothy and a media solutions company, both the sides having issues in scaling the traffic and supporting the website when there is a spike in traffic.
Problem: Epaper solution is managed and maintained by third party company, and every category or department have individual websites taking out a lot of manpower and duplicate content across the multiple channels, also having issues with mobile apps push notifications and services loading very slow.
Solution: First we did an audit on the approach and user base for this company and came up with a solution as one website for all the channels and other sites will act as sub-domains but still maintained with the company instead of getting them outsourced. Once the solution for website and epaper/magazines ready we have implemented our CDN across the web properties to make it load faster as we have seen more 30% of traffic is coming from outside India we load images, JS and other media files from CDN and rest from high-performance redundant server architecture.
Results: Once we finish all the setup, website started picked up the traffic, and we have achieved 800% growth in traffic within six months and 500% growth in revenue.
Know more about us at: http://promos.ibeehosting.com