Cloud Hosting has revolutionized the whole Web Hosting Industries and thus unfolding the questions for hosting your applications or website makes a deeper sense to analyse the real facts. Paying attention to things to consider before making the decision for dedicated hosting or cloud hosting is of utmost important.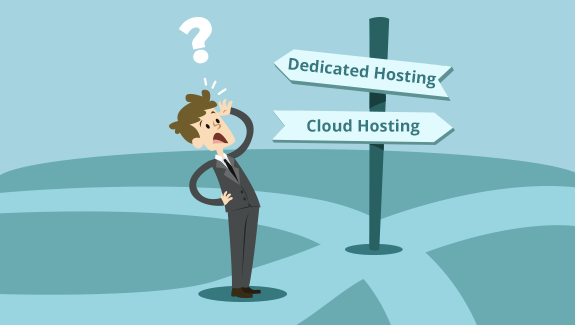 Cloud Servers
Cloud Servers are popular with small and mid-sized businesses that have variable workloads and demands.  These are the great option for optimizing IT performance without the huge costs associated with purchasing and managing a fully dedicated servers.
Cloud servers can be configured to deliver the similar level of performance, security and control of a dedicated server but what makes them different with dedicated servers is " virtualized" environment managed by your cloud hosting provider. Escalating economies of scale by sharing hardware with another customer by paying only the amount of server space on an hourly basis and enjoying the infinite flexibility makes them so popular among the SMBs.
Dedicated Servers
Dedicated servers heed the attention of the large businesses that requires high security and thus they purchased and maintained their owned servers as dedicated servers.These organizations have predictable demands that necessitate their servers to operate 24/7- 365.
Cloud Servers vs. Dedicated Servers – your questions answered
How rapid are the resources accessible online?
With Cloud, servers resources can be accessed within a minute but it takes considerable time for about almost a week sometime in dedicated resources.
2. Can RAM, CPU and disk spaces be upgraded?
Yes this is feasible in both the cases but the major difference between the both is that with Cloud Servers it can be done with few click and sometimes with automation APIs whereas in Dedicated Servers it is a manual process that requires a scheduled maintenance window.
3. Auto- scaling, auto-provisioning and auto- management tools available?
Yes, Through community driven open Development API these tools are readily available while tools are available in the Dedicated environment but you have to wait for vendor-driven development.
4. Achieving high availability quickly and cost effectiveness:
YES for both the sides. It is readily achievable in Cloud Servers.Can achieve do so by configuring  HA environment quickly with multiple cloud servers and a load balancer within minutes and can cost up to 60% less in comparison.While In dedicated servers request has to be made for HA Environment within an infrastructure using multiple dedicated servers with a multiple load balancer and takes almost few hours to days time.
5. Are they compatible enough with the technological trends?
Trends like BYOD, Gamification, Big Data analytics, DaaS are in the preliminary stage. If you want to upgrade to these in near future, then cloud servers fit in you.
6. Are Security and compliances needs to be addressed properly?
These needs can be served better with dedicated hardware. Complete compliance with Security and compliance regulations can be best served by Dedicated servers and makes your choice right to go with dedicated servers.
7. Manage on the go?
Android and IOS phones are compatible with the cloud servers. While in a case with a dedicated server, management is a manual process.
8. Can cloud resources and dedicated resources run in one environment?
Here at IBEE we don't propagate on the principle of one size fits all rather we concentrate on delivering solutions as per need. In Spite of cloud having the capacity to answer every business with variable workloads still they should also run dedicated hardware where needs arise.
We at IBEE Hosting are concentrating on delivering high performance with our affordable hosting plans ranging from entry level to the most advanced for the SMBs in India. We cater on delivering the end to end solutions, we help them in achieving success in their projects by giving suggestions and best practices in making their applications successful in terms of marketing, coding, performance and experience. Combining the power of a dedicated server with the cloud server is the solution we are working on creating the compelling price-performance ratio. Know more about us at https://www.ibeehosting.com or call us know at +91 9652744233 for FREE Assistance.