Have a websites that still uses the older version of WordPress? Well, it is time to update the WordPress site to secure your site from hackers.

The Google Webmaster team has been quite busy sending notification to the owners of websites who are still using an older version of WordPress, as per the reports given by State of Search many users and owners of WordPress sites who still are functioning their sites on previous WordPress versions have been getting warnings from the team specifying the same and should be taken care of at the earliest.
WordPress declares that throughout the entire globe they have over 47 million deployments, they also accept that the older WordPress versions possibly are susceptible to permit the hackers inject malevolent files into any site which is least expected to contain any malware.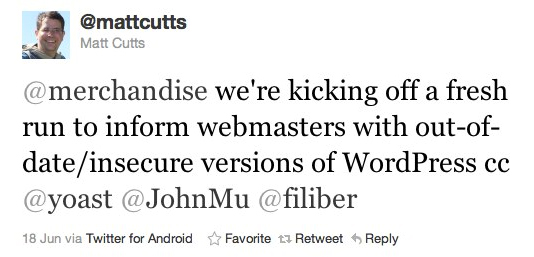 When asked for confirmation, Matt Cutts who works for Search Quality Group in Google has promptly tweeted that Google freshly has started to enlighten the webmasters about the insecurities in the previous WordPress version. It looks like this is what Google has actually proposed to do two years ago, but they have never really got this process into action.
Certain webmasters consider it a good move by Google forcing them to update WordPress which also specifies that the quality websites which use WordPress but have not yet updated are vulnerable to attacks from hackers posing a threat for spam in SERPs.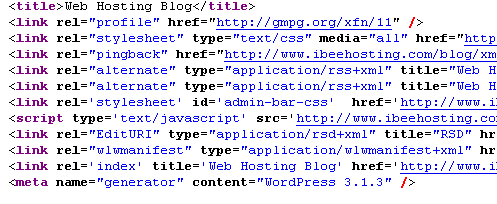 Are you thinking how Google has known about the WordPress version you are using for your website? It is quite simple you have carefully observed the code any time which gives the version of WordPress clearly.
Simple procedure has to be followed to improvise the existing WordPress, the first thing would be to immobilise the existing plug-ins, take back up of the site and click on the upgrade link directly. If you do not know whether the version using now is updated or not , the users will get a message on the top of screen in yellow box along with the updates available after the website owners have logged into their WordPress for the site
Along with the WordPress it is also essential to update the plug-ins which are equally prominent since they are the main reason to amplify the website functionality which are also regularly updated by the open source community.