Partners like IBEE Hosting can offer G Suite Promo code to its customers and prospects ranging from 20% to 50% discount based on the volume of the user accounts per domain. G Suite (formerly known as Google Apps for Work) is widely used by many businesses across the world and is recommended product mostly for Business email. G Suite pricing varies from country, and also it between G Suite Basic and Business plans. If you are looking for a promotion code of G Suite, then go ahead and click on the below button give your G Suite data to get the promo code instantly that works in February 2018.
Get G Suite Promotion Code here
G Suite business promo codes are available for USA, Canada, UK, Australia, Singapore, Netherlands, Germany and Ireland.
How to apply G Suite Promo Code:
Login to G Suite console at admin.google.com
Click on Setup Billing (red button on the right pane).
You can choose country and currency to this page.
Select your Plan choices between flexible and annual.
Click on Promotion code in blue color link under pricing details
Enter the promotion code we sent you over the email.
You will get a gray color text saying "20% off each month for 12 months.." if the G Suite Promo Code is successfully applied else appropriate error message shown in red color text.
Click on continue, and your G Suite promo code will be used and shown on the review screen, but you will not find the 20% discount applied here.
You will be asked to fill in contact, billing and tax information in this page.
You can use 20% off promo code discount at this final step of payment confirmation.
Below Image shows where to use G Suite Promotion code:
G Suite Pricing country wise with discount:
Here is the G Suite discounted vs. actual prices in different countries. These discounted prices are applicable only after applying our G Suite promotion code on the billing page.
AMERICAS
Country
Actual Price/user/year
Discounted Price/user/year
USA
$50
$40
Canada
$50
$40
Mexico
$50
$40
Chile
$50
$40
Colombia
$50
$40
Brazil
$50
$40
Peru
$50
$40
Argentina
$50
$40

ASIA PACIFIC

Country
Actual Price/user/year
Discounted Price/user/year
Australia
$50
$40
Hong Kong
$50
$40
UAE
$50
$40
India
INR 1500
INR 1200
Japan
¥6000
¥4800
New Zealand
$50
$40
Singapore
$50
$40

EUROPE

Country
Actual Price/user/year
Discounted Price/user/year
UK
£33
£26.4
Spain
€40
€32
Germany
€40
€32
France
€40
€32
Portugal
€40
€32
Netherlands
€40
€32
Ireland
€40
€32
Italy
€40
€32
Belgium
€40
€32
Frequently Asked Questions about applying G Suite Promo codes:
Question: Why am i getting the error "The promotion code you entered does not apply to your country/region"?
Answer: While requesting promo code with us, please select your country where you signed up for G Suite account as G Suite promo codes are applicable only to respective countries.
Question: What is the difference between G Suite Basic and G Suite Business versions?
| Feature | G Suite Basic | G Suite Business |
| --- | --- | --- |
| Storage | 30 GB | Unlimited (1 TB/user) |
| Apps | All G Suite apps | All G Suite apps |
| Advanced Drive Features | No | Yes |
| Google Vault | No | Yes |
| Archives | No | Yes |
| Jamboard | Yes | Yes |
| Price | $5/Month* | $10/Month* |
Question: How to fix error "The promotion code you entered has already used before"?
Answer: You get this error when the promo code has already been used by others, in this case, you can request a new coupon code using above button and you will get a response instantly.
Question: I am an existing G Suite customer, can i use promo code during renewal or my billing?
Answer: No G Suite promo codes are available only for the new users or the accounts in trial period.
Question: Do you have any promo codes for Google Enterprise version?
Answer: No, G Suite promo codes are available only for basic and business plans as of now in select countries.
Question: what is the price for G Suite Enteprise version?
Answer: G Suite Enterprise version will cost you $25 per user per month and no discount codes are available for this plan.
Question: What is the discount i get from promotion code for business plan users?
Answer: Most of the times you get 20% discount on the business plan after applying promo code.
Question: Why G Suite site says "The promotion code you entered is not valid" while applying the coupon?
Answer: G suite promotion codes are case sensitive and are having a minimum of 15 letters.
Question: Why am i not able to redeem coupon code in Google play store?
Answer: These codes we send are particular to G Suite accounts and not redeemable at Google play store or Google Adwords accounts.
Question: How to fix "The promotion code you entered is not valid for selected product"?
Answer: These coupons only work for flexible and annual plans of G Suite Basic but not on all countries G Suite unlimited or business editions, currently G Suite business promo codes are available for few countries.
Question: Can i get promo code in my language?
Answer: G suite accepts promo codes in English language, however we provide promo codes for all major languages like Spanish (códigos de promoción de G Suite), French (G code promotionnel suite) and Brazil (Código promocional G Suite) in English and you redeem them at billing G Suite billing page.
Question: What is the difference between Annual and Monthly flexible plan?
Answer: Annual plan is a 12 month commitment for target number of users in advance and in monthly flexible plan you don't need to commit number of users and 12 months, you can month on month and add or delete users on monthly basis. But in monthly plan you will end up paying additional 17% of amount than in annual plan. For annual commitment you will get that 17% discount.
Question: Why my country is not listed in selection for receiving promo codes?
Answer: Google have only launched G Suite Promotion codes program in selected 21 countries and their major focus countries are USA, India, Brazil, UK and Australia.
Question: How to upgrade G Suite Basic to G Suite Business?
Answer: Sign in to G Suite admin control, go to common tasks > get more apps & services > click add it now under G Suite Business.
Question: I got some code from friend but why it didn't worked when i applied for discount?
Answer: Google offers several discount and promo codes for their owned products, usually G suite promo code will have a minimum of 15 characters like this "W6W646X94KQFQDJ" for getting $10 discount.
Question: If i cancel my annual plan prior to end of the year, what happens to promotion code discount given while signup?
Answer: If you cancel the account which is in annual plan before its billing term, G Suite will charge you for the entire year price less promotional discount.
Difference between G Suite and other products
G Suite (Google Apps for work) is a superior product than its competitors like Microsoft Office 365 and Zimbra because of first mover advantage and also G Suite is the more matured product in regarding issues and bug fixes. G Suite also offers additional tools like hangouts for video conferencing and Google+ for networking where other products are not at near to offer these services. Also, G Suite gives an excellent spam protection for the business email with a lot of controllable features for whitelisting and blacklisting the domains.
Features of G Suite Basic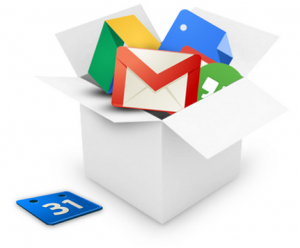 Business Email like john @yourcompany.com
Send professional emails using your domain @yourcompanydomain.com with enterprise-class spam protection system and much efficient mailing lists or groups like sales @yourcompanydomain.com.
Forms
Google forms one of the best feature that G Suite has and you can create customised forms with extensive permission options and all the responses can be collected into a spreadsheet, Google Forms now supports file upload option as well from Google Desktop and Drive.
Storage you require – G Drive
Get 30 GB storage in G Drive for all your storage needs. You can upgrade your storage plan anytime at an additional $5 per month to unlimited storage plan. You get G Suite team drive for business and enterprise plans.
Support
Google has a good and strong technical support team that works for 24x7x365 to resolve all types of issues irrespective of levels. G Suite also have an excellent network of partners or resellers like IBEE Hosting to extend local support.
Collaboration tools
G Suite has collaboration tools like docs, sheets, forms, slides and sites gives you the advantage to share and collaborate with inside and outside of your domain (office).
Jamboard
Jamboard is a collaboration space that replaces the real world white board in conference rooms. It merges physical and digital world experiences, discussions and ideas.
Other communication tools
G Suite Basic comes with full stack communication tools like Email, hangouts for chatting, calendar and Google + for networking.
What to expect from G Suite in 2018?
Google announced these features are going to be available for G Suite basic and business users.
Enterprise G drive
G Drive File Stream
Quick Access
Google Vault for Drive
AppBridge features
Hangouts chat for group messaging
@meet bot for scheduling in chat
Now G Suite Promo Codes are available in UAE, Peru and Argentina
GAME – developed by zixcorp for G Suite for outgoing emails encryption
Difference between G Suite referrals and G Suite Partner offerings
IBEE Hosting is a partner for both G Suite referrals and G Suite Partner which entitles to send you exclusive promo codes and offer all partner benefits for you like the setup, migration, and training on G Suite accounts.
G Suite referral program started in 2015 to promote then called Google Apps for work aggressively on the market after Microsoft office 365 slashed its prices. Both G Suite partners and G Suite referrals offer 20% discount, many times G Suite reseller or partner will not pass on the discount benefits to end customer, unlike G Suite referrer.
We help you setting up your G Suite account for free and giving discounted pricing as well, click on the above-mentioned button and fill the form to start working with us or email to info@ibeehosting.com